Master of Science International Economics and Management
Dear prospective student,
thank you for your interest in the Master (M.Sc.) program, International Economics and Management. This study program prepares students for executive positions in international companies or for research and advisory activities in national and supranational institutions. The program's specific focus lies on the globalization and increasing internationalization of economies and firms, their strategies to gain competitive advantages, and their activities to successfully reach and sustain a leading position.
The program is designed to impart both theoretical and methodological knowledge on international firms, open economies, development, and globalization. The program is structured around core and elective modules. In addition to a core structure it offers a high degree of flexibility to enable students to tailor the program to their individual interests. It is also regularly updated to take into account the latest research and issues in international management.
For the successful completion of the study program students have to obtain a total of 120 ECTS credit points. These are made up of a combination of mandatory methodological modules (20 ECTS), elective modules in economics and management (60 ECTS), "general elective" modules (20 ECTS) and a master thesis (20 ECTS).
The master program International Economics and Management is taught in English. Students with the relevant language proficiency have the opportunity to include courses taught in German towards their credits.
Prof. Dr. Stefan Jungblut
(Program Coordinator)
Course of the Studies
The Master of Science in International Economics and Management is a 4 semester program. The academic year begins in the winter semester nevertheless a beginning in summer term is possible, too. There are three modules of 10 ECTS credits (ECTS = European Credit Transfer System, 1 ECTS credit is equivalent to around 30 working hours) to be completed in each semester. Therefore, a total of 120 ECTS credits is needed to complete the program.
Studiengangsverantwortlicher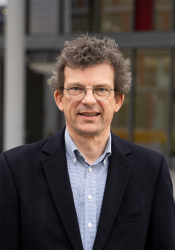 Office hours:
Mo. 15:00-16:00/by appointment