Dear prospective student,
thank you for your interest in the Master (M.Sc.) program, International Economics and Management. This study program prepares you for executive positions in international companies or for research and advisory activities in national and supranational institutions. The program's specific focus lies on the globalization and increasing internationalization of economies and firms, their strategies to gain competitive advantages, and their activities to successfully reach and sustain a leading position.
The program is designed to impart both theoretical and methodological knowledge on international firms, open economies, development, and globalization. The program is structured around core and elective modules. In addition to a core structure it offers a high degree of flexibility to enable you to tailor the program to your individual interests. It is also regularly updated to take into account the latest research and issues in international management.
On the basis of the program's international orientation all modules are offered through English (German speaking modules are also available). The international orientation is not only apparent through the English language study option. In addition, the study program holds strong partnerships globally with numerous partner universities as well as various cooperations through the Faculty of Business Administration and Economics. This provides students with the opportunity to integrate a study abroad into their study program through the support of the faculty. Further information regarding this element of the program can be found under 'Study Specials', as well as on the website of the International Campus.
Prof. Dr. Stefan Jungblut
(Program Coordinator)
Further information:
Flyer M.Sc. International Economics and…
Laden Sie sich hier den Flyer herunter.
Program Coordinator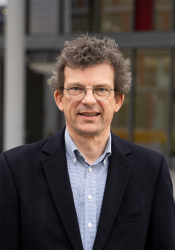 Office hours:
Mo. 15:00-16:00/by appointment
Student Office Hour